Alright! There were 54 of you who favourited the journal so, who's the lucky winner?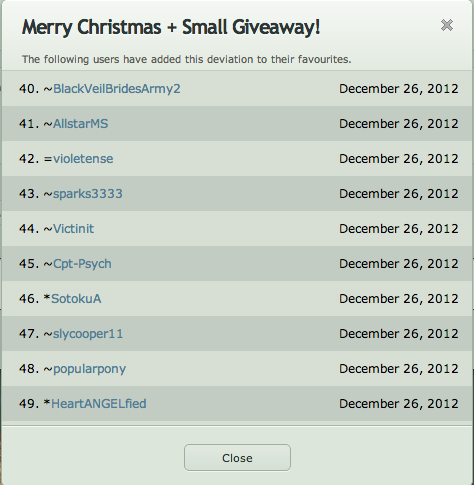 Congrats

!
You got yourself 20


And once again, Merry Christmas and Happy New Year everyone



Merry Christmas!

I hope all of you had a wonderful Christmas or if you don't celebrate it, had a good holiday

My Christmas was pretty hectic!
Had to do lots of last minute shopping and now I'm almost completely broke, but it's all in the name of giving

It was a wonderful day, though the family got a little too carried away with the alcohol

Anyway, since it's still Christmas somewhere in the world(it's been over for 3 hours where I'm at

) I'd just like to give out something small as a token of celebration!
Giveaway!
Rule: All you have to do is

this journal(that will be your number)
Prize: I'll give the remaining 20

I have in my account(used the rest of the points to get my brother a PM

) to the person holding the number chosen through a random number generator.
I'll be ending the giveaway tomorrow!
Again, have a very Merry Christmas and Happy Holidays!